I'm just going to preface this by saying I love shopping on SheIn. Like, as soon as I got my first job my senior year of high school I went to SheIn's website and started shopping like my life depended on it. I had heard about this site from different YouTubers and social media influencers; it does not disappoint.
If you don't know what SheIn is, it is an online retailer that sells tons and tons of apparel items for a super inexpensive price (like, SUPER inexpensive). Recently, they started selling men's and kid's clothing as well as home decor. SheIn is constantly improving their items' quality and adding new items to their site. It's really easy to spend money on there, coming from someone who spends a lot of money on their site.
After years of shopping and many orders being placed, I have learned a few things about shopping on SheIn– some of them are common knowledge.
Get Ready for Spring Break – Save $5 off $59 at us.SHEIN.com with code BZY5 Offer Expires – 03/25
1. CLICK ON THE GIANT 85% OFF AD
This is literally the first thing you see when you go to SheIn's home page, and it's legit. It makes it so much easier to find deals on items that are already priced really low. When I get onto SheIn's site not looking for anything in particular, this is the first thing I click on.
2. ALWAYS READ THE REVIEWS
Honestly, this is something you should do with anything. Items usually look enticing, but I like to read what other customers have to say before I spend my money on an item (especially since I don't have the finances to waste a lot of money). Anyway, focusing on SheIn in particular, aim for items where the reviews have pictures attached. One thing I like about SheIn is the customer's size is shown with the review, and seeing a picture of that person wearing the particular item provides a more realistic perspective than the model. The reviews are super important; sometimes items aren't colored as advertised, and that is made evident in the reviews (it's happened to me a couple of times). If it's a popularly reviewed item, it's worth contemplating buying. If the item doesn't have any sort of review and you don't have money to spend to be the guinea pig, don't buy it.
3. KNOW YOUR MEASUREMENTS ( especially for clothing)
When reading the reviews, I would try to find someone with similar measurements, which makes it easier to know how the item would fit on your body. For this to work, you have to know your measurements. Sizing is very interesting on SheIn, which is why it's important to know your measurements and not just the fact that you usually wear a medium. Made that mistake. That was my logic, and one day, I ordered a shirt in a large because I wanted a nice slightly oversized t-shirt. Well, that shirt barely fits my very medium body. Now I use my measurements when shopping on SheIn and haven't had anymore mishaps. Sometimes a small is actually a medium and so on.
4. KNOW EVERY ITEM IS DIFFERENT
This is kind of like the last point and kind of goes back to reading the reviews (I promise it helps a lot). Sometimes items advertised as t-shirts, which are often associated with being cotton, are actually some sort of jersey material. Sometimes items advertised as coats are like thin sweaters. Sometimes items advertised as sweaters are just like long sleeve cotton shirts. They always look the same as the picture, but the material could easily not be what you expected. Recently, SheIn started selling shoes, and some are in US sizing while others are European sizing (I almost made that mistake).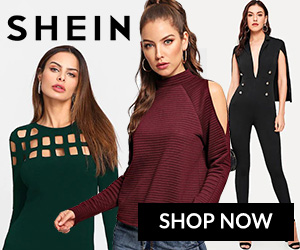 5. GENERAL TIPS FOR EACH CATEGORY
Before you go, I wanted to summarize some tips I have for each section (all completely based on personal experience).
BOTTOMS: Goes back to knowing your measurements. It is a lot less risky to buy skirts, leggings, and workout pants than denim (because the latter isn't as stretchy as the former three).
T-SHIRTS: I love SheIn's t-shirts. Whether they are cotton or not, they have really good t-shirts. I've only ever had one bad-ish experience with their t-shirts (see above Melanin picture).
BLOUSES/OTHER TOPS: Watch out for turtlenecks and mock necks. Most of them are not awful, but you can never be too careful. Just be mindful that some sweaters are super itchy or nowhere near sweater material.
BODYSUITS: They have really great basic body suits, like a plain v-neck t-shirt. The sizing is pretty accurate on these, and they're usually stretchy.
OUTERWEAR: Again, sizing is usually accurate. They either match the image/description perfectly, match the reviews perfectly, or all of the above.
SHOES: They always run out of my shoe size, so I'll let you know when I catch a US size 11 in a pair of shoes I like. The prices aren't that bad; it's just a matter of if the quality matches or exceeds the prices.
JEWELRY: You get what you pay for with some of the necklaces. If you pay a dollar for a necklace, it feels like a dollar necklace. Most of their jewelry is priced less than Claire's but has way better quality. I love their earrings and rings, but be careful with some of the daintier earrings; they have the potential to break easily.
HANDBAGS: Even though it's not going on your body like a shirt would, watch out for sizing. I bought a backpack from there for school my senior year thinking it was a normal school backpack, but it was a tiny one that could barely fit my wallet. However, the quality of the bags are really good.
BELT/SCARVES: Very good quality, especially for the price you pay. Enough said.
BATHING SUITS: I am always weary about buying bathing suits online. I aimed for an adjustable high-waisted bikini set, and it worked out perfectly. I would totally recommend aiming for adjustable bathing suits, even for the bottoms.
I have yet to buy home decor items, lingerie, and socks from there. I'll get back to you when I get around to buying those.
At the end of the day, it's important to read the reviews and know your measurements. Also, make sure your wallet is good because it's so easy to drop a lot of money on this site. I hope some of this was helpful.